THE GONE JACKALS are a four piece hard R&R group based in S.F., CA who have
been recording and touring for over five years.
Keith Karloff is the bandleader & front man of the G.J.'s. A singer-songwriter, producer and multi-instrumentalist, Keith relocated to S.F. from his native N.Y.C. where he had been performing under the name Keith Gale as a solo artist. Breaking from the restrictive environment and high expectations that the N.Y.C. circuit and its "big business" atmosphere fostered, Keith's was first and foremost a quest for personal and artistic freedom.
The first musician to sign on in S.F. with Keith was Rudy D. Maynard, a "bottom feeder" bassist recently arrived from Oil City, LA. Rudy performed on the first "Keith Gale" release, a cassette E.P. entitled "Five Piece Screwdriver Set" for BLUE/BLACK RECORDS and is on all the G.J.'s subsequent recordings.
With a backing band which at one time included Bay Area phenom Charlie Hunter on guitar, performances ensued as "Keith Gale" and later as "Keith Gale's Parallel Universe" with such acts as Joe Ely, The Beat Farmers and The Chesterfield Kings.



After a period of experimenting with ine-ups and instrumentation, everything came together best with Judd Austin on guitar and vocals (formerly with TOWER OF POWER's Ed McGee Group) and Trey Sabatelli (JEFFERSON STARSHIP, THE TUBES, VINCE WELNICK's MISSING MAN FORMATION) on drums. Enjoying the chemistry of his combo and feeling that he had begun to assimilate a reasonable amount of S.F.'s atmosphere, Keith became "Keith Karloff" and the band became "THE GONE JACKALS" - a musical unit.



"Out & About with THE GONE JACKALS" (ConTon-BLUE/BLACK) released in 1990 was the group's first full length C.D. and their first official recording as THE GONE JACKALS. This C.D. had moderate success on college radio stations and received commercial air play in San Diego, Santa Barbara & Olympia, WA. The band expanded it's performing territories to Southern CA, sharing bills with such acts as T.S.O.L. and Fantasy 7 while playing college campuses and their adjacent towns throughout the State.Legendary N.Y.C. guitarist Johnny Gale (who happens to be Keith's brother) featured two songs from "Out & About" plus two additional Karloff penned numbers on his Guitar Player/Relativity C.D. "Gale Force" which have garnered serious air play. THE GONE JACKALS second full length C.D. "BONE TO PICK" is the featured R&R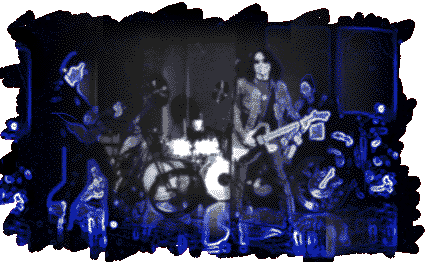 soundtrack to THE LUCAS ENTERTAINMENT GROUP's smash hit interactive motorcycle P.C. game FULL THROTTLE which has sold hundreds of thousands of units worldwide. "BONE TO PICK" sold out its entire first run of 2K units within two months of its initial release, primarily through mail order via the BLUE/BLACK P.O. Box (listed in the game information) with only a limited amount of "in store" distribution and no air play whatsoever. "BONE TO PICK" was then added to the LUCAS Mail Order Catalog and has since become the #1 selling item in the entire Catalog.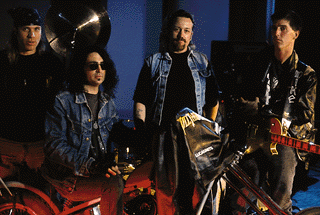 BONE TO PICK has also caught the attention of Don Johnson's Music Director, who featured the song "Born Bad" in the "Baby Boy" episode of the hit C.B.S. Television series NASH BRIDGES.