Take a stroll beneath a searing, stainless steel sky.
Savor the sweet heat of the Deep South.
Ten brand new Keith Karloff penned instant Blues Rock Classics.

The latest scorcher from The BONEDRIVERS -

"Mobile"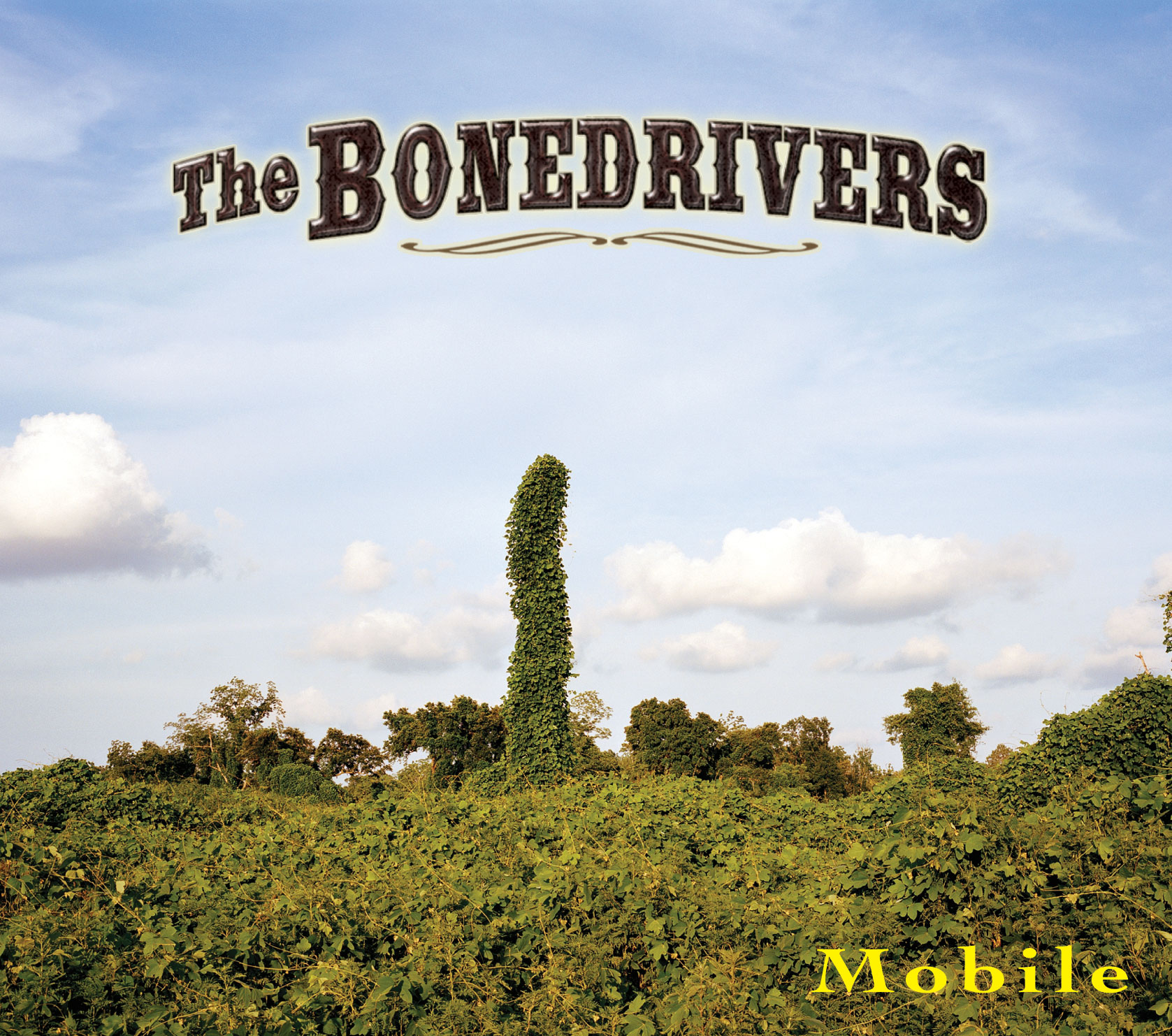 The San Francisco based Bonedrivers boast former frontman of The Gone Jackals Keith Karloff on vocals and guitars, Jazz/Blues bassist Thom Stokes, Funk/Rock drummer Jim Nelson plus special guest, and Bay Area treasure, Austin DeLone on serious keyboards.

From the Missisippi Delta inspired "Gimme Lightning" to the pulsating Beale St. Bop of "Moonlight Ride" to the traditional, Old Nashville style "Honky Tonk Prayer" to the Carolina Beach Music rhythm of "It's a Beautiful Thing" all the way down to the sh&%*t kicking 'Bama Biker Stomp of "Northwest Girl" the BlueBlack Record Company cordially invites you to ride along on this Southern Music Run with -

San Francisco's Premier Boogie Band - The Bonedrivers.

Produced by Keith Karloff and Gary Hobish.
Engineered and Mastered by Gary Hobish.
Graphis Art by Gary Hobish and Keith Karloff.
14 tracks • BB444


OWN "MOBILE" - CLICK HERE!


NOW AVAILABLE FOR DOWNLOAD AT:

iTunes
Yahoo Music
Audio Lunchbox
MP3.com
---
For "Mobile" Lyrics - Click Here!

---
Reviews from The Bonedrivers debut CD "Roadhouse Manifesto" (BlueBlack Records • BB 5328)


Rolling Stone Online
*****
5 of 5 Stars

"There's just 3 words for this album. It Kicks Ass. Keith Karloff's method of trying the songs out live before even working them onto the CD truly makes a record without a sleeper on it. Even the pre mastered discs enjoyed airplay on 91.3 KSVY in Sonoma long before the CD got it's 'official' release. The 'Old School' tone and format of the songs make it familiar the first time you listen to it.
If you don't like 'Live to Ride' then you've never liked straight forward rock. There's no gimmicks on this disc, Just straight forward Blues based rock and roll. Can't wait till they come back to Sonoma to see what Keith and Co. have up their sleeves." - James Marshall Berry 91.3 KSVY FM - Rolling Stone Online

"Keith Karloff's 'Lou Ann' and 'Live to Ride' have the jangly guitars and pop hooks of classic Tom Petty or Marshall Crenshaw singles, married to a beefier rhythm section that makes the record rock fairly assertively even on the ballads." - Stewart Mason, Billboard Magazine/All Music

"One of the most interesting and unique bands out of this genre" - Blooddawn" Magazine, Germany

"Reminiscent of the great Jimi Hendrix and the vocals of great bluesmen such as B.B. King". "Live To Ride" is a true biker hymn" - SLAM MAGAZINE, Italy

"100% proof that you don't have to come from way down south to have that rebel sound." - Metallville Magazine, UK

"The Bonedrivers have been getting big press on their new CD "Roadhouse Manifesto" from the likes of Guitar Player Magazine. The latest press comes from Maverick, a publication in the United Kingdom similar to Spin Magazine here in the states" - The Sonoma Valley Sun

Exclusively on BLUEBLACK RECORDS • San Francisco, California • www.blueblack.com