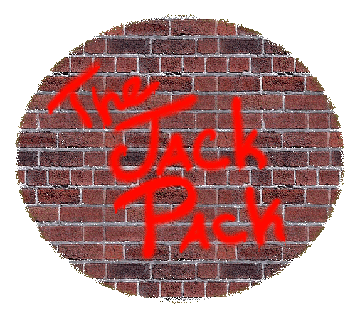 The Official Gone Jackals Fan Club Newsletter
Vol. 1, Issue# 3, November
The Gone Jackals Worldwide
ćBone To Pickä is finally available in European C.D. stores as an ćImportä. Bertus Distribution (The Netherlands) is the first Company to pick up The Gone Jackalsā recordings outside of the U.S., and the C.D. has been selling strongly there since itās introduction.
Possible C.D. Release Date
Blue/Black Records is shooting for a December release date, through their own website at first, with the C.D. hitting retailers shelves in January
Tee Shirts and Posters?
Gone Jackalsā tee shirts are going quickly. The band is deciding if they should have posters of the cover of Bone To Pick made up. Any thoughts from the The Pack?
C.D. Artwork
Artist John Seabury, the man responsible for the fine work on Bone To Pickās cover art will be contributing his talents once again on the G.J.ās next release.
Top Secret!
The new C.D.ās name is still being kept under wraps, although Keith Karloff reports that the name had been decided long before rehearsals for it had even begun - heād just prefer not to reveal anything until it goes to manufacture.
Help Needed
A lot of requests for guitar ćtabsä have been coming in. The guys in the band say that they donāt have the time to put them together. Anyone out there know how?
Contest
There is a new contest on the Gone Jackalsā website - check it out!
Misc.
Try e-mailing ćimusicä to request tracks from Bone To Pick - letās see if they really respond to their listeners.
For questions, submissions and comments contact the one and only creator of the Jack Pack - Mike D at miked@hhs.net
check out the last edition of the Jack Pack!