Keith Karloff - Biography (3)


| | |
| --- | --- |
| | |

As The Gone Jackals began to wind down, Keith added front of house mixing as a live sound Engineer to his musical resume. This new work found him mixing at The Great American Music Hall, Cafe Cocomo and John Lee Hooker's Boom Boom Room for such greats as Mr. John Lee Hooker himself, Chemekia Copeland, Idris Mohammad, Mofro, Leo Nocentelli, Susan Tedeschi, Bonnie Raitt, Nick Lowe, Tab Benoit, Elvis Costello and Buddy Miles.
Keith's Engineering work heated up locally enough to catch the attention of huge industry standard bearer MIX MAGAZINE who ran a feature article on his FOH work.

After extensive work at John Lee Hooker's Boom Boom Room as a live sound engineer and stage performer, Keith decided to assemble a combo in the mold of the touring roadhouse R&B bands he'd been enjoying so much live. He and fellow GJ alumnus R.D. Maynard founded their new Rock-N-Blues band The Bonedrivers in late 2001. Since then, The Bonedrivers have become a mainstay at festivals and in major regional music venues. The current line up of the BDs features Blues-Rock Specialist/Singer Peter O'Malley on bass and groovemeister Jim Nelson on drums.

The Bonedrivers debut CD "Roadhouse Manifesto" (BlueBlack Records) received worldwide acclaim and achieved rotation on many NorCal radio stations.

The Bonedrivers second CD "Mobile", inspired by the great City of Mobile, Alabama was released in 2010 and solidified this band as a Regional force

A third CD is in the works and is slated for a Fall 2013 Release..

Karloff plans to continue performing and recording "until he's thrown into the weeds". He currently resides in central San Francisco.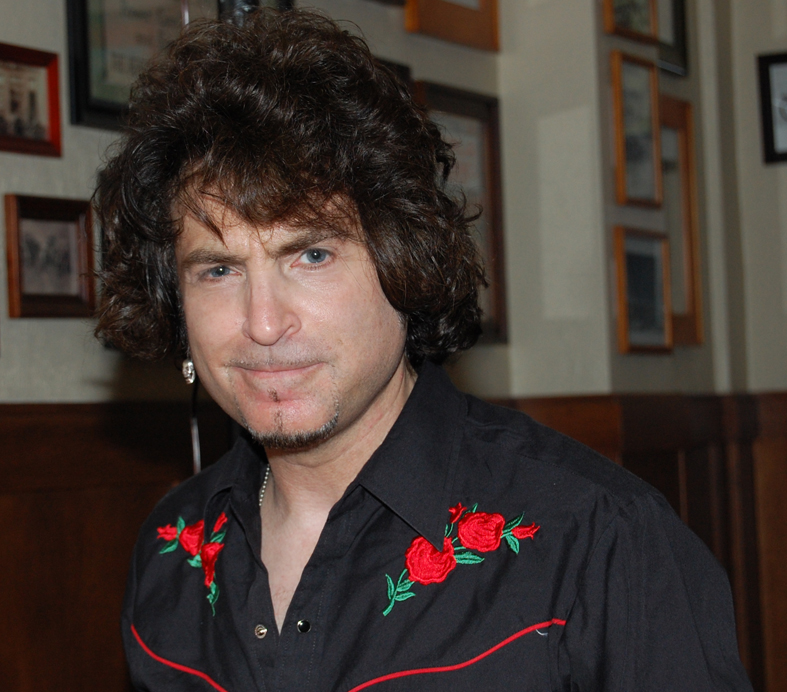 Keith Karloff @ Broken Wing Club in Hollister, CA - May 2008
Photo - Jill Chavez


Keith Karloff - Vital Stats:

Other AKA's - Keith Cortez, Keith Quinn, Keith Chin, Keith Cohen, Little Elmer, Dr. Karl Schnitzer
Favorite color - Green
Bats R/Throws R
Favorite Musicians - Max Roach, Jimi Hendrix & Brian Wilson
Favorite Movies - "Unforgiven", "Two Lane Blacktop" & "Runaway Train"
Favorite Authors - Paul Bowles, Jim Thompson, John Steinbeck, Mohammed Mrabet, Charles Bukowski, Ray Bradbury
Favorite Sport - Baseball
Dislikes - Oligarchies
Pet Peeves - High action on guitars, monitor feedback
Early Drumming Influences - Dino Danelli, Joe Morello, Charlie Watts, D.J. Fontana, Al Jackson
Favorite Vocalists - David Ruffin, Sam Cooke, Little Richard, Darlene Love, Elvis, Jim Reeves, Jack Scott, Muddy Waters, Mick Jagger, Johnny Horton, Mike Love, Dusty Springfield, Felix Cavaliere, Samudio Domingo - too many to list.
Mid Period Bass Influences - Jamie Jamerson, Duck Dunn, Robbie Shakespeare, Carol Kaye, Ron Wood, Dee Murray
Guitar Faves - Keith Richards, Steve Cropper, Leslie West, Jeff Beck, Jimi Hendrix, Wes Montgomery, James Taylor, Rick Derringer, Jim McCarty & the great Johnny Gale.
Favorite Bands - Sam the Sham & The Pharaohs, Amboy Dukes
Favorite Food - Fudge covered apples
Personal Credo: "The more you understand what is bullshit, the more you appreciate what is not".



Keith uses Dr. Z Guitar Amplifiers, Ernie Ball Strings, Picks and Accessories, Modtone EFX Pedals and Austin Custom EFX Cases