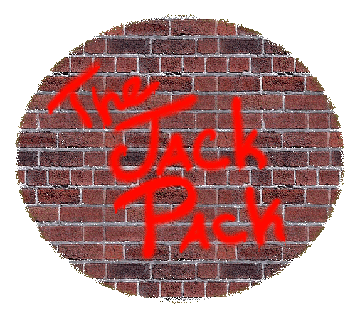 The Official Gone Jackals Fan Club Newsletter
Vol. 1, Issue # 4, January
The Moment You've Been Waitin' For !
The Gone Jackals' new C.D.'s "official release dateš will be March 17th, 1998 at the South By Southwest Music And Multimedia Conference in Austin, TX. The band will be performing in a "featuredš role as the pivotal band, bridging the gap between the Music and Multimedia worlds. This live show will be at The Electric Lounge at 302 Bowie St. in Austin. It is up in the air as to whether the show will be an "all agesš or an "over 21š date. The date of March 17th is symbolic as it marks the final day of the "Multimediaš portion of this event and kicks off the first day of the "Musicš portion.
New C.D. Available On Net
The new C.D. will be made available through the web site before it hits local retail outlets. Estimated availability of the C.D. through the site is mid February - please stay tuned (they are working on a "bulletproofš advance ordering system for those who insist on scooping the competition).
The Gone Jackals Live!!!
Live dates will begin in February, with the first shows being in San Francisco and Sacramento, CA. Venues are currently being
negotiated, with "all agesš shows being a top priority, wherever and whenever Possible.
European Fans
"Bone To Pickš is available in European music stores as an "U.S. Importš through Bertus Distributie (The Netherlands).
To find the nearest store to you, call Bertus at telephone # 31.10.264.1582 or fax #31.10.264.1580 or on the net at www.bertus.com.
Any Volunteers?
A lot of requests for guitar "tabsš have been coming in. The guys in the band say that they could use some help putting these together. Anyone out there interested?
Contest
There is still time to enter the new contest on the Gone Jackals' web site - it's been "simplifiedš to facilitate more correct answers.
Misc.
There are still a few Gone Jackals' tee shirts left - these are still "first batchš tees - there could be minor changes, next run.
Views
"Hi I'm from Brazil and I like G.J. too much! well, I - as almost everybody - listened to Gone Jackals for the first time in
Full Throttle's soundtrack. When I played the game for the first time and listened to Legacy, I thought : WOW! this is a great band! A week later I went to a music store and ordered "Bone To Pickš. It took almost 6 months to arrive! But when I put it in my CD player and listened to the whole CD... I was really surprised! It was awesome! Keith is an awesome songwriter and singer! I hope now that G.J. release as soon as possible another CD as good as "Bone To Pickš!
Thanks, Adriano Bruschi"

For questions, submissions and comments contact the one and only creator of the Jack Pack - Mike D at miked@hhs.net
check out the previous issues of the Jack Pack!
Volume 1, Issue #2
Volume 1, Issue #3